Welcome to the NBA 2016-2017 Season Thread!
+ Show Spoiler [Pre-season Summary] +
After the Warriors gave up a 3-1 lead, the Cleveland Cavaliers were able to clinch the NBA championship! Will the two teams make it back for 3 in a row?

After the loss, the Golden State Warriors went out and signed Kevin Durant. Will it be enough for them to recapture the title? Will Draymond be able to keep his hands to himself?

The Houston Rockets hired Mike D'Antoni for coach and will bring his Pick-and-Roll offense to a team that has focused on getting 3-point shooters after letting go of Dwight Howard. Harden will handle the ball a lot, and should have a great year. Could The Beard possibly lead the league in assists? Could he have an MVP-type season?

The Knicks hired Jeff Hornacek for coach and brought in ex-MVP Rose and Joakim Noah to form their version of a "superteam". Will Porzingis build on his impressive rookie season?

The Celtics signed Al Horford and look to be one of the league's best defensive teams.

The Minnesota Timberwolves have brought on Thibedaou(?) to coach what is probably the best young core in the league. Will Canadian Andrew Wiggins take the next step as a player and reward them for playing him so much last season?

The Bulls signed D.Wade and Rajon Rondo to team up with stud Jimmy Butler. Will they have enough space to operate with so many below-average 3-point shooters?

The Sixers' #1 overall pick Ben Simmons will be out for a few months with a pre-season injury. They do get Joel Embiid back after he was recovering himself all last season. Will this be the season Philly fans see the light at the end of the tunnel?

The Lakers signed Luke Walton to hopefully lead the franchise out of their own tunnel. Will the Warriors-inspired offense/culture (see second article below) he implements be enough to make an immediate impact for Russell, Randle and others? How will Swaggy P act now that he is Uncle P and in a system suited for him? Will they keep their top-3-protected draft-pick?

The Utah Jazz are one of the teams the NBA junkies are really excited about. Australian Dante Exum finally returns to play with their deep pool of guards, how will he fare?

The Pelicans are hoping to give Anthony Davis more help this time around. Will he be able to have a breakout season and be what New Orleans and a lot of people think he can be?

+ Show Spoiler [First 10 Games] +
Strength of schedule thru first 10 games: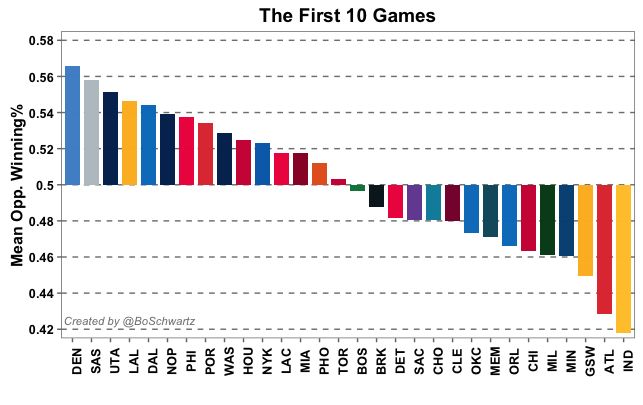 source:http://fansided.com/2016/10/25/nylon-calculus-early-season-schedule-difficulty/
+ Show Spoiler [First Month] +
Thru First Month of Season(11/29):
+ Show Spoiler [Mid-Season] +
Mid Season(1/26/2017):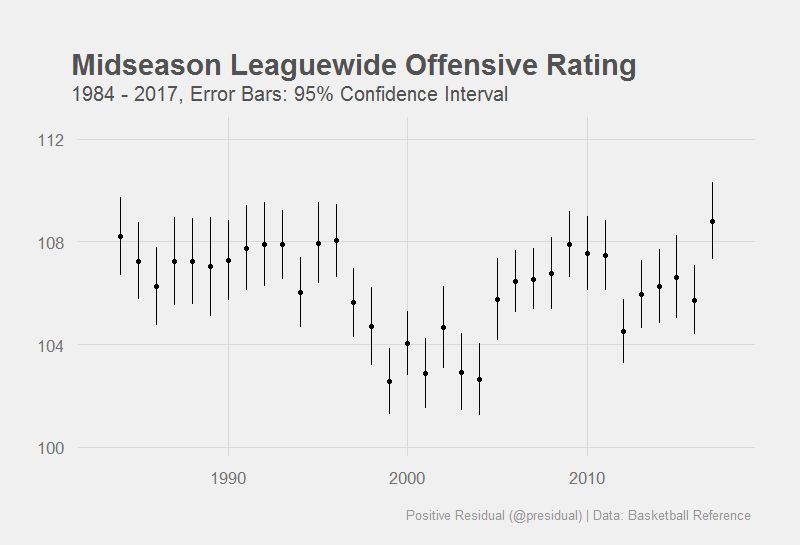 The league average offensive rating thru the halfway point of the season is really up there over the last 30 years or so after increasing about 3 points from last season to this one. ( A better post, this time authored by presidual, than the Sunday one.)



All-Star Weekend Schedule (2/17/17):
Friday, Feb. 17
All times Eastern (ET)

10:30 a.m. | BBVA Compass Rising Stars Challenge Practice | NBA TV
12 p.m. | All-Star media availability | NBA TV
7 p.m. | NBA All-Star Celebrity Game | ESPN
9 p.m. | BBVA Compass Rising Stars Challenge | TNT

Saturday, Feb. 18
All times Eastern (ET)

11 a.m. | Hall of Fame Announcement
12 p.m. | NBA All-Star Practice | NBA TV
2:30 p.m. | NBA D-League All-Star Game presented by Kumho Tire | NBA TV
7 p.m. | Commissioner Adam Silver media availability | NBA TV
8 p.m. | State Farm All-Star Saturday Night | TNT

- Taco Bell Skills Challenge (first event)
- JBL Three-Point Contest (second event)
- Verizon Slam Dunk (third event)

Sunday, Feb. 19
All times Eastern (ET)

11 a.m. | NBA Legends Brunch | NBA TV coverage begins at 1 p.m. ET
8 p.m. | 66th NBA All-Star Game | TNT


hampions



Every week I try to highlight an interesting read or graphic or video that I find...


2/12/2017:--

Source
+ Show Spoiler [Archives] +
+ Show Spoiler [Week of 1/31/2017] +
1/31/2017:
--Corner 3-PT'ers allowed vs corner 3-PT'ers attempted per game--
Source
+ Show Spoiler [BONUS--Rick Carlisle after win vs. Cavs] +
+ Show Spoiler [Week of 1/22/2017] +
1/26/2017:
Happy 40th B-Day VC!


01/22/2017:
Not a great/interesting link by my part and misleading graph title on image by creator
+ Show Spoiler +
+ Show Spoiler [ Week of 12/11/2016] +
[
12/11/2016:
source
+ Show Spoiler [ Week of 12/06/2016] +
12/06/2016:
+ Show Spoiler [ Week of 11/28/2016] +
11/28/2016:
+ Show Spoiler [Week of 11/13/2016] +
Week of 11/13/2016: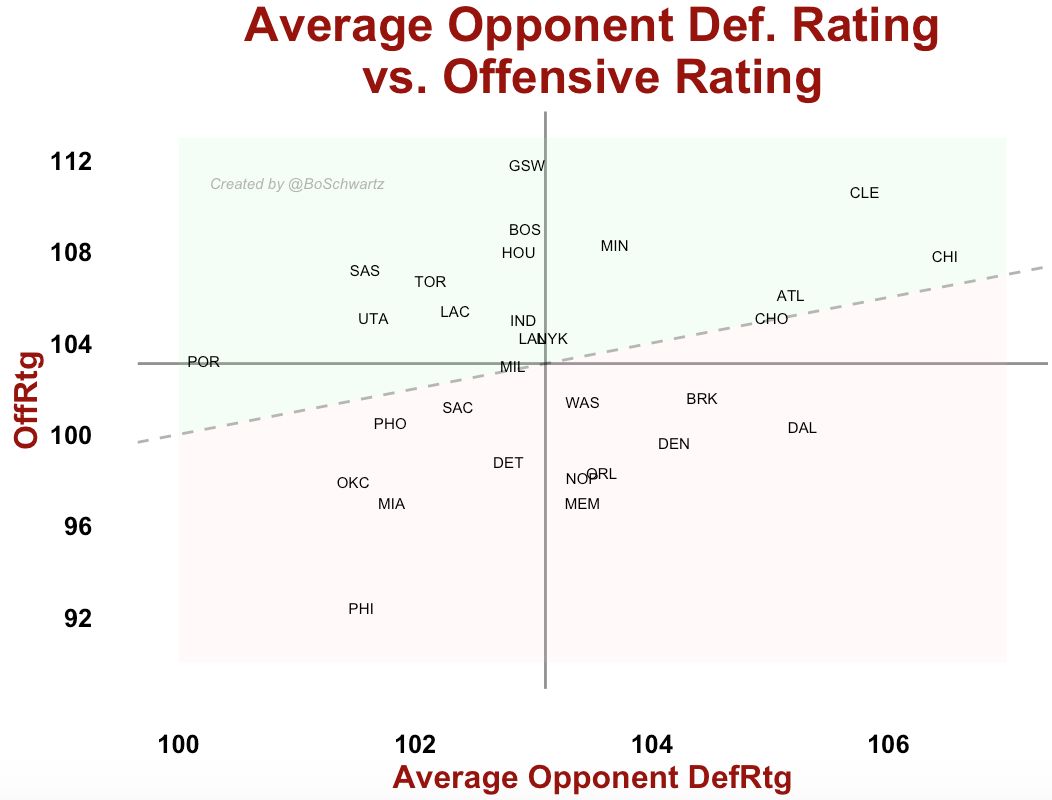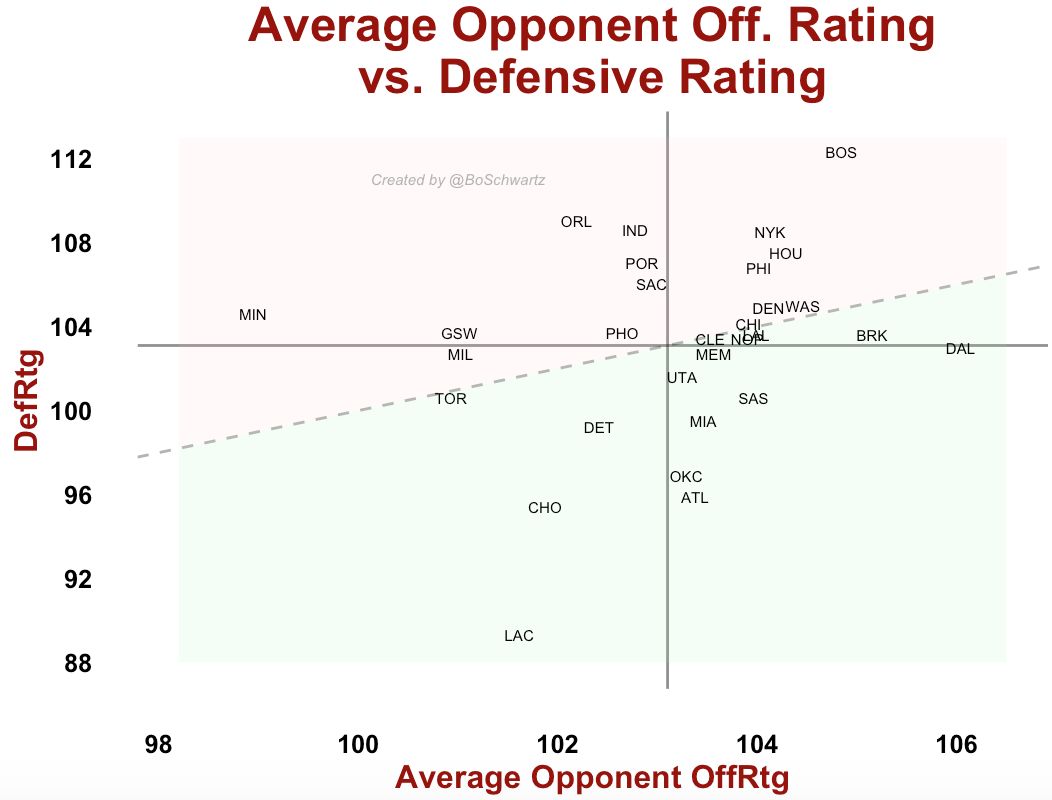 source:
http://fansided.com/2016/11/11/nylon-calculus-early-season-offenses-defenses-context/
+ Show Spoiler [Week of 11/6/2016] +

Week of 11/6/2016(first ~5:40 on Luke Walton is the most interesting):

+ Show Spoiler [Opening-Week] +
A somewhat-analytical look at playing defense in the new NBA and a great read: The Defensive 3-Point Revolution


+ Show Spoiler +

https://twitter.com/Rachel__Nichols/status/790742978125967360


Opening-Week Bonus: With the Lakers implementing a lot of Horns sets brought over by Luke Walton, I wanted to read/find out as much as I could about their new offense. Walton will use a lot of what the Warriors use, which has roots back to the Spurs motion-offense. Although this might be too heavy on the X-and-O's for some people, it is a good primer for the interested: San Antonio's Influence on NBA X's and O's

*Bobcats are now the Hornets
NBA All-Star Weekend: February 17-19, 2017
CharlotteNew Orleans
NBA Season starts: Tuesday, October 25, 2016